Week of August 26
It is appallingly clear that our technology has surpassed our humanity.
Albert Einstein, as quoted in the movie Powder
Week of August 19
The top 10 names for Canadian dogs are Sam, Max, Brandy, Sheba, Jake, Willy, Misty, Kayla, Lady and Nikki.
The top 10 names for Canadian cats are Smokey, Ginger, Tigger, Tiger, Max, Snowy, Simba, Missy, Lucy and Joey.
Pets Magazine
The most popular name for newborn boys in remote Nepalese villages is Eddie Fisher, after the singer and former husband of Elizabeth Taylor, who is still a superstar there.
Week of August 12
WELCOME TO THE PSYCHIATRIC HOT-LINE:
If you are obsessive-compulsive, please press 1 repeatedly.
If you are co-dependent, please ask someone near you to press 2.
If you have multiple personalities, please press 3, 4, 5, and 6.
If you are paranoid-delusional, we know who you are, where you are and what you want. Just stay on the line until we can come and get you.
If you are schizophrenic, listen carefully and a little voice will tell you which number to press.
If you are manic-depressive, it doesn't matter which number you press. No one will answer anyway.
Week of August 5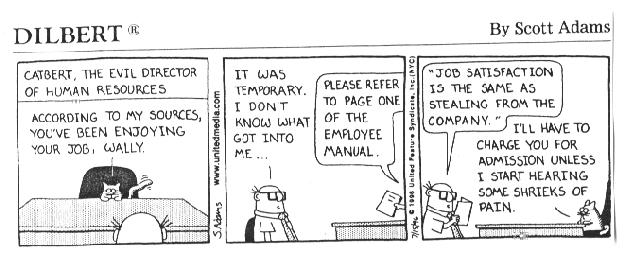 Dilbert, by Scott Adams